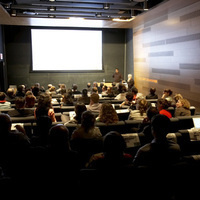 Anna-Maria and Stephen Kellen Auditorium (Room N101), Sheila C. Johnson Design Center
66 Fifth Avenue New York, NY 10003
Place Type

Lecture Hall/Classroom

Kevin Patrick on The Phantom Unmasked The Phantom, created by Lee Falk in 1936, is the forerunner of the American comic-book superhero. Ironically, he has...
Tuesday, April 24, 2018 7:00 pm
Frederick Luis Aldama on "Latinx Comics: Geometric Storytelling, Production, and Consumption Aldama will unzip his brain, offering a multimedia extravaganza...
Tuesday, May 1, 2018 7:00 pm

Matthew Thurber on "The Hallucination of the Art World" Matthew Thurber will speak about his forthcoming book from Drawn and Quarterly, Art Comic. This...
Tuesday, May 8, 2018 7:00 pm
Recent Events